Here you will find maps, information about distances and public transport in Numedal.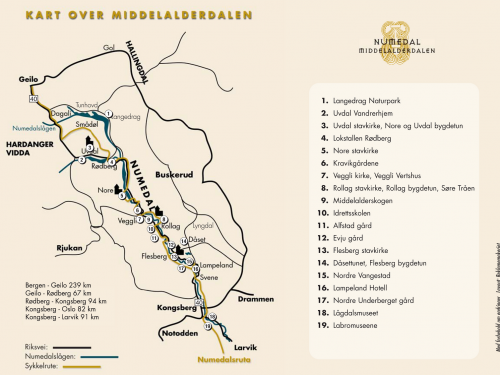 Click to see larger version Most visitors travels to venues in The Medieval Week by car via Kongsberg. It takes about an hour to drive to Kongsberg from Oslo, half an hour from Drammen. Distances to these places from Kongsberg:
Lampeland: 22 km - about 25 minutes
Rollag 61 km - about 60 minutes
Nore stave church 80 km - about 1 hour and 20 minutes
Rødberg: 94 km - about 1 hour and 30 minutes
Uvdal stave church 100 km - about 1 hour and 40 minutes
We recommend that you are far more generous when calculating travel time by car. As a car tourist you will definitely see frequent needs to stop and enjoy the views both to the stunning scenery and the many special historical buildings that are visible from the road.
Public transport: Buses depart from Kongsberg to Rødberg and further on to Dagali and Geilo. More information on the bus company's web pages:www.brakar.no
railway line: Attentive motor tourists in Numedal will notice that there are train tracks all the way from Kongsberg to Rødberg but unfortunately the Numedalsbanen line no longer has passenger trains. The Kongsberg - Flesberg line has some freight trains (mainly timber), and the rail between Veggli and Rødberg is only used for recreation tourists by track bikes (tricycle). More information on numedalsbanen.no
Bicycle: There is a 100 km marked bike route between Kongsberg and Rødberg (Numedalsruta). This is part of the larger 280 km long route between Geilo and Larvik. The route runs mainly on asphalt and mostly with little other traffic.